Check out this article in the print edition of StudentFilmmakers Magazine, October 2006. More photos featured in the print edition. Click here to get a copy and to subscribe >>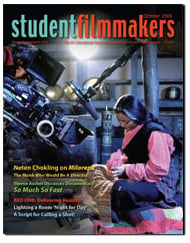 The Monk Who Would Be a Director
Neten Chokling on "Milarepa"

by Larry Jaffee

... Continued from Previous Page
StudentFilmmakers: In the same way Milarepa, the person, goes through a spiritual journey, did you find the film production process a similarly exhausting yet satisfying journey?

Neten Chokling: Definitely YES. Not having prior [filmmaking] experience, not getting funds and waiting for funds to come in, it was very frustrating sometimes. But at the same time, one reads about the life of Milarepa and then one knows that "my" problems are nothing compared to what he went through. This encouraged and inspired me on many occasions. It still does. In the end, we came out with this film, and it seems to be touching people in different ways. This is very satisfying to know that what you made is touching people in positive ways. We worked hard. Like Milarepa, our hard work had good motivations to start from. Anything that is based on a good motivation, it comes through good.


StudentFilmmakers: How did you approach such an endeavor?

Neten Chokling: Basically, it was the thought that "once this is done, this will benefit many." The film has lots of beautiful messages, right for today's confused and turmoiled world. It talks about the importance of compassion, understanding, the futility of revenge, impermanence. Once we are able to think of these more in our daily lives, our actions and reactions will also change in a positive way. This thought was basically how I started this project.

StudentFilmmakers: While making a film was new for you, there were some pretty experienced people on your crew.

Neten Chokling: We had some of the most wonderful people doing post production: Suzy Elmiger was the editor. She had cut Robert Altman's Short Cuts and Stanley Tucci's Big Night. Bob Hien, the sound editor, worked on Woody Allen's Deconstructing Harry, Alice, Bullets Over Broadway, and Mighty Aphrodite; as well as Wes Anderson's The Royal Tenenbaums; Secret Window; Jim Jarmusch's Ghost Dog; Before Night Falls; John Sayles' Eight Men Out. Joel Diamond, the composer, was best known for his work on Henry Bean's The Believer. John P. Nugent and his team at Sandbox was the visual effects supervisor on The Lord of the Rings trilogy, Terminator 3: Rise of the Machines, and The Matrix, among others.

StudentFilmmakers: How did you attract such talents with major Hollywood credits?

Neten Chokling: Basically they were people who had some interest in Tibet, the Buddha Dharma and the Himalayas! I personally think that they had faith in this film and the messages that it was portraying. They have been very kind to us, to the project.

StudentFilmmakers: How did you approach getting Western interest/financial backing in the film?

Neten Chokling: We did try fundraising many times, and we were unsuccessful most of the time. Nobody wanted to invest in an independent film and on a first-time director without any background or experience. We approached prominent people who were interested in Buddhism and who were capable of investing. But when it came to money, everybody just wanted to be attached to it!
StudentFilmmakers: Where did the $1.5 million budget come from?

Neten Chokling: A close family member knew about the project. Every year in France, there is a gathering of Buddhist practitioners under Sogyal Rinpoche, the author of the Tibetan book of living and dying. This close family member met his friend there and told him about the project. The friend of his invested $100,000. With this money, we started the project. We rented our cameras and shipped them to India, got the crew ready and started filming.

We started filming and then again ran out of money. I got some loans from my friends and also put in whatever I had at that time—around $50,000. With this money, we just managed to get by the filming.

By the end of the filming, I owed money to the western crews. The best part was that I had "monk power." I had 88 monks from my monastery doing part-time crew work and cast work, all on a volunteer basis. The western crews would joke, "Hollywood has money power" but "you have monk power!"

All the assistants to the camera man and sound man were monks. The boom swinger was a monk!

In order to pay the western crews, this friend of the family member invested another $100,000.
After filming, we stopped for a couple of months. We had no money to do post production. During this time, a lady from the Buddhist Broadcasting Foundation, based in Holland, came to the scene. She invested some money.

Another Buddhist organization in Colorado invested some money. Some money was invested by some Buddhists in Taiwan. The rest of the money was put in by the same guy, who initially invested in France.

StudentFilmmakers: How frustrating is it to hold off on Part II until 2009? Why is it taking so long? A lack of financing?

Neten Chokling: Because it had been difficult to finish this one (Milarepa), I wasn't sure that I wanted to make the second part. I thought people could read the biography in order to figure out the rest of the story. But now, it seems that many people want to see the second half of the story. That is why I would like to finish the second part. One of the biggest reasons to start in 2009 is financial. It is not frustrating to hold off until 2009, but I would like to finish as soon as possible.